Press Release
Veterinary ~ Poultry ~ Website ~ Web Design ~ Digital Hill
With over 50 years of experience, Veterinary and Poultry Supply, Inc. is a diversified independent distributor of affordable animal health care products for livestock and poultry dealers. For more information, please visit www.VetPoultry.com
The new Veterinary and Poultry Supply, Inc. website is complete with a Content Management System that allows the Goshen area website to add and delete top level pages and sub-pages with the greatest of ease. The website includes a manageable Salesperson Locator that uses a Google Map with pins to show locations of a salesperson closest to the viewers location, along with contact information. As with all of Digital Hill's web designs, the Veterinary and Poultry Supply, Inc. website integrates easy to use SEO tools to ensure optimal search engine results.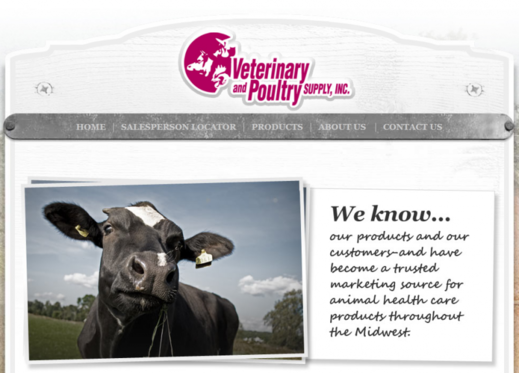 The new web design for Veterinary and Poultry Supply, Inc. is a welcome addition to Digital Hill's portfolio of Goshen website clients. For over 14 years, Digital Hill Multimedia, Inc. has specialized in Web Design, eCommerce, SEO, Web Hosting, Social Media, Flash, 3-D Animation, Application Development, Internet Marketing and Promotion Strategies in Goshen, Northern Indiana and throughout the country.
Visit www.digitalhill.com or call 888-537-0703.
Veterinary ~ Poultry ~ Website ~ Web Design ~ Digital Hill